It's Important to Regularly Spruce Up Your Site
Ahh...Springtime. Home horticulturalists are busy planting and tending to their gardens. Behind the scenes, they probably spent the last month weeding out the old plants, preparing the soil, and carefully selecting the seedlings for this season's garden.
Page One Web Solutions® tells us to "think of your website as a garden," in its article "Spring Cleaning Tips for Your Online Marketing."1 Your company website is no different. If you would like to consistently grow your website traffic and expand your business, it's important to "weed out" the old and refresh your site regularly.
Why? In her article, "Top 8 Reasons to Update Your Website," Svitlana Varaksina explains, "With the majority of people spending more and more time online, regular [website] updates that are well executed can help your business grow and lift it to the top; a lack of updates, consequently, can bring you down."2
Let's look at a few easy ways you can spruce up your website without spending a fortune:
Include New Content and Images,
Add CTAs (Calls-to-Action),
Incorporate Video,
Add a Blog,

Incorporate Social Media Links/Icons.
---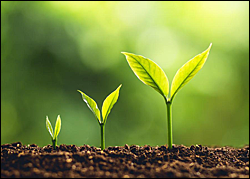 "Weed Out" the Old and "Plant" New Content on Your Site
If your site still has text and photos from the original website launch or even a year ago, it's time to "weed out" the old and "plant" new content. Ask yourself if the original mission statement and philosophy, text, look and feel of your website is aligned with your business NOW.
As Neil Patel mentions in his article, "How Updating Old Content Can Help Your Rankings," "To increase the effectiveness of your SEO efforts and boost your search engine traffic, you can just update your old content and give yourself an improved freshness score. When you tell Google® your content is new, you'll get a spike in traffic that will make the tiny amount of work required well worth it."3
So, you don't have to completely overhaul the site to freshen it up. Tweak the messaging, add new photos of your business, employees, the latest Heil® products or recent company events. Add new customer testimonials to your website (always obtain customers' permission to use their testimonials on your site). Ensure your website contact and copyright information are accurate and up to date.
Once you've made some updates to the site, it never hurts to ask friends or family to review it and provide suggestions for improvement. That way, you can get comments from real visitors to the site.
---
Add a Little "Fertilizer" or CTAs (Calls-to-Action)
With fresh content, you will hopefully have new visitors to the site, and you want to "fertilize" or develop that growing customer base. There are a variety of call-to-action (CTA) links or buttons you could add to your site:
Sign up for the company eNewsletter or blog,
Participate in the "Refer a Friend" Referral Program,
Download the latest industry or Heil product news,
Visit the company social media pages,
Learn about a complete Heil comfort system "Clean and Check" Special.
---
Incorporate Some "Sunshine" with Video
Video can transform your website into a more interactive online experience. Consider it the "sunshine" for our virtual "garden." According to "55 Video Marketing Statistics for 2020," "By 2020, online videos will make up more than 82% of all consumer internet traffic — 15 times higher than it was in 2017."4
Consider using video to introduce the latest Heil AC unit, furnace or system control. Or, create a quick video that will help customers change a filter or check their equipment before the season starts. At the end of each video, include your business contact information so customers know who to call if they have heating and cooling questions or need assistance from a technician.
If you own a smart phone, you probably know how to take a quick video, but you may not know how to upload the video link to your site. YouTube® makes it relatively easy to host and stream videos, but you need to create an account if you don't already have one. Click here for more information on YouTube.
It's Easy to Incorporate Video with YouTube®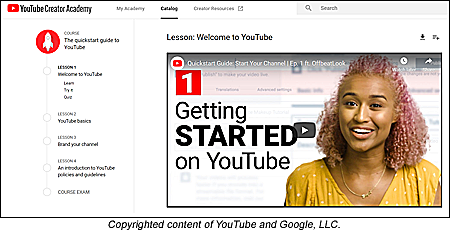 ---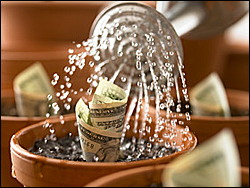 "Water" It with a Blog
Another easy way to update your website is to add a blog or include more recent posts to your existing blog. Now that you have more visitors to the site, it's important to nurture or "water" that website "garden" for continued growth.
At first it may be challenging to create blog content daily or multiple times a week. But, if you are writing about a topic you are passionate about, you'll soon have a library of awesome content. Consider writing a small bank of blog posts before you "go live" with your site so you have content ready. Here are just a few blog ideas:
Wirte a post on how to change the filter on your AC or other simple DIY heating and cooling topics.
Offer some ways customers could reduce energy costs during the hot summer months.
Show customers how to utilize the energy-tracking features on their Ion™ System Control with pictures or a quick video.
Review some of your old blog posts. There may be new industry information that you could add to update those blog entries.
Click here for more tips on how to start or enhance your business blog.
---
Lay Down Some "Roots" by Linking Your Social Media Pages
To ensure your website "garden" has a strong "root" system, include links to your social media accounts in a prime location on every page of your website (i.e., header, footer, sidebar or floating bar). And, vice versa, incorporate your website URL on your social media posts when possible. Make it easy for customers to connect with you on your website or your company pages on Facebook®, Twitter®, YouTube®, Google®, etc.
Regularly check your social media links to ensure they are working properly. It's important that all communication channels are well connected or "rooted" to the business so you can respond to any questions or requests in a timely manner.
---
Just like the garden in your backyard, it's important to tend to your business website so it continues to thrive. Regularly update your site by including new content, adding CTAs to encourage action, incorporating video or a blog to enhance the online visitor experience, and connecting your site to your social media channels. These simple improvements can help to increase your website traffic and SEO rankings while growing your customer base. Are you ready to get your hands "dirty"? Let's go garden!
---
1 https://blog.pageonewebsolutions.com/spring-cleaning-tips-online-marketing
2 themindstudios.com/blog/top-reasons-to-update-your-website/
3 neilpatel.com/blog/updating-old-content-to-boost-ranking/
4 biteable.com/blog/tips/video-marketing-statistics/
All trademarks are the property of their respective owners.