Use a "Choices" Brochure from AdVantageSM
to Educate Customers and Increase Sales

You've probably received a sales brochure from your cable company offering "good, better, best and fantastic" packages or "silver, gold, platinum and fantastic" service options at different price points. And, after talking with your family about whether they prefer sports or movie channels, you made a decision on your cable package based on your family's requests and your budget. Let's face it: we love to have choices when making a buying decision.
Customers want choices on their heating and cooling equipment too! As Michael Hunter of BDR explained in a previous story on GoHeil.com, when you offer choices to customers, they:
Understand what heating and cooling equipment is available.
Realize how high-efficiency equipment and accessories can improve their system efficiency and comfort levels.
Can make a more informed purchasing decision.

Using a "tiered" or "choices" sales approach has benefits for you as well:
You're in a position to "educate" the customer rather than "sell" to them.
You can easily discuss the benefits of each tier or choice as a trusted HVAC advisor. The "fantastic" heating and cooling package includes a high-efficiency furnace, fan coil and heat pump or AC as well as other accessories that may reduce energy costs over time.
More choices ("good, better, best and fantastic") equals more opportunities to take your customers and your sales to the next level. If customers weren't aware of the "fantastic" option before, how likely would they be to purchase it?
---
A custom "Choices" brochure is a great place to start. A "choices" sales approach can be a win-win for your customers and your business. Are you providing "good-better-best-fantastic" equipment options in your conversations with customers? Not sure how to get started?
That's where AdVantageSM can help! AdVantage is currently offering a program where dealers can order "Choices" brochures to share with customers. So, you can build a custom brochure with:
Your "good-better-best-fantastic " or "silver-gold-platinum-fantastic" equipment offerings.
Your price points and financing options.
Your business information, colors and logos.

Sample "Choices" Brochure from AdVantageSM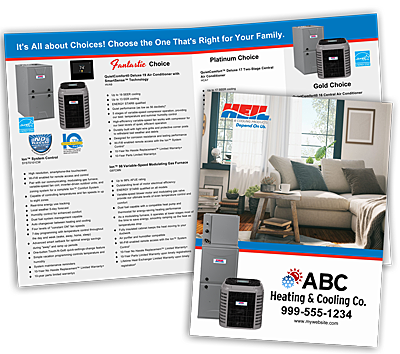 ---
What equipment should I consider for a tiered sales approach and my "Choices" brochure? For the Silver (Good) level, suggest entry-level heating and cooling equipment like the Heil® Performance line. Gold (Better) could be the QuietComfort® mid-level offering. Platinum (Best) could be a step up from QuietComfort. Fantastic (Best of the Best) might be the Ion™ line with the highest efficiency gas furnace, heat pump and AC equipment Heil® offers. Refer to the chart below for guidance.
Equipment Suggestions for a Tiered Sales Approach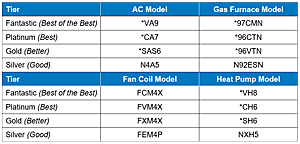 ---
You can get started creating a custom "Choices" brochure today by contacting AdVantage at 865-690-1990 or support@i-createlocal.com. You can also reach AdVantage through the Secure Dealer Login on GoHeil.com.
Take your customers and your sales to the next level with a custom "Choices" brochure from AdVantage!
---
AdVantageSM is a third-party service provider. International Comfort Products (ICP) is not responsible for the AdVantage program or services.