Risk-Free Trial Sponsored by Wells Fargo:
NO DEALER FINANCING COSTS FOR THE FIRST 90 DAYS!
Who is eligible for this promotion?
Heil dealers who enroll with Wells Fargo Retail Services between October 1 – December 31, 2018 are eligible for this exciting promotion!
What are the benefits of the promotion?
Heil dealers who sign up to offer Wells Fargo consumer financing will be able to offer Plan 1019—No Interest if Paid in Full within 12 months with regular monthly payments—at no cost for their first 90 days.1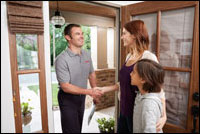 Why is this promotion important?
► Enjoy a risk-free trial of Wells Fargo consumer financing.
► Offer homeowners a solution to the price that accompanies the comfort and energy efficiency they want in a new home comfort system by shifting the upfront cost into a convenient monthly payment with approved credit.
Why is it important to offer financing?
Homeowners want financing options. 54% of Wells Fargo cardholders moved forward with their project because financing was available.2
How do I take advantage of the offer?
1. Request approval from your Wells Fargo representative to utilize the paperless application and complete the "How to Use" training.
2. Save this URL: http://retailservices.wellsfargo.com/tablet/ to your device.
3. If your financing applicants are comfortable using your device, have them complete the application and consent to electronic disclosures.
Leverage longer term financing plans to provide consumers a convenient monthly payment on high efficiency equipment.
---
Promotion Guidelines:
► Promotion Dates:
This promotion is effective for dealer enrollments received from October 1, 2018 to December 31, 2018.
► Dealer Eligibility:

► Dealer Reimbursement:
Reimbursement will be paid on the first 90 days' worth of transaction volume on the Heil Retail Financing Program through Wells Fargo. The 90 days will begin from the Wells Fargo recorded "activation date" which occurs when all paper work and training is complete. Enrollments submitted before but not completed within the effective promotion dates will not be eligible for the promotion.
► Reimbursement Percentage:
Dealers will be provided a reimbursement equal to the dealer cost for the No Interest if Paid in Full within 12 months with regular monthly payments plan (Plan Code 1019).
Heil Dealer Plan Code 1019 Reimbursement Percentage: 5.49%
Dealers can utilize plan options outside of plan code 1019 but will be responsible for the full difference in Dealer Discount Rate. The following Plan Codes are not eligible for reimbursement:
3019 - Special Rate 13.90% APR with 2.50% custom payments,
2246 - Special Rate 11.00% APR with 2.00% custom payment, and
1148 - No interest if paid in full within 6 months with regular monthly payments.
► Payment:
All reimbursements will be paid after the first 90 days of volume at the end of the nearest month (within the first 15 days). Example: if enrollment occurs on 10/1/2018, the first 90 days ends 12/30/2018 and payment will be issued by 1/15/2019. When Plan Code 1912 is used, the rebate on any volume will be paid at 3.5%, not 5.49%.
► Creating your own advertisements featuring a financing offer?
Dealers must comply with all Wells Fargo advertising requirements, including any and all regulatory information and disclaimer information contained on the Wells Fargo Online Resource Center.
Please review the Wells Fargo advertising requirements on the Wells Fargo Online Resource Center that can be found here.
To learn more about enrolling in the Heil credit card program offered through Wells Fargo Financial National Bank, click here.
Already enrolled in the Heil credit card program offered through Wells Fargo Financial National Bank? Take advantage of the ongoing Fall Financing Promotion now through November 30th. Click here for details.
---
1This is a deferred interest promotion. This means that if the purchase balance is not paid in full within the special terms promotional period, interest will be charged to the account from the purchase date at the regular APR for Purchase. Making only regular monthly payments will not pay off the purchase balance within the promotional period.

2Wells Fargo Home Projects cardholder satisfaction survey, August 2016