Use Role-play to Get Your In-Home Sales Team Ready to Sell MORE
Why Should Role-Playing Be Part of Your Sales Training?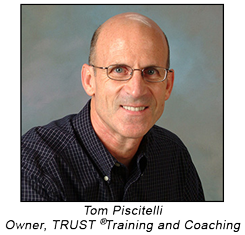 Would you send a new technician out on an installation after only watching a "how-to" video and reading a pamphlet on HVAC installation?
Your answer is almost certainly a resounding "NO." You would make sure your new technicians had all of the necessary hands-on training to correctly install a new heating and cooling system before sending them out into the field.
Train your sales team in the same manner you train your installers to correctly install a job and your technicians to professionally troubleshoot a service problem. You can achieve this goal by using role-play to practice what to say and when to say it, just like on a sales call.
Few people actually like to role-play in sales training workshops, but most will agree that role playing is an effective way to develop their selling skills. Role-play practice has stood the test of time, proving that even a short practice session creates confidence in using the new technique in a live situation.
It's understandable why most people avoid role playing. Being in front of peers or strangers and speaking is challenging enough. Then being asked to try or say something that is new and different can be downright scary. No one likes to stumble or fail, and the odds are that the first time any of us tries something new we won't do it very well. To make matters worse, some role-play training instructors think it's their responsibility to point out what the participant has done wrong and no one likes to be told that, especially in front of others.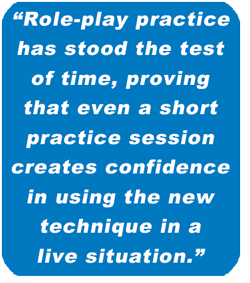 I can remember my first role-play nearly 40 years ago. I thought I did pretty well and then the instructor and group all gave their "constructive" feedback—all negative—and I felt like a stooge. After that I kept a pretty low profile. Years later, as a beginning sales trainer, I put a participant on the spot and he got flustered and closed off from the rest of the training, just like I had. That reminder was all I needed to commit to always providing a positive, reinforcing environment during my workshops, including role play practice.
Here is how I make sure role-play practice is a positive, effective learning experience:
1. Keep the role-play groups small; three is ideal.
2. Set a clear boundary around all feedback being positive—there will be no criticism by the instructor or other participants.
3. Assure the participant that any notes the instructor takes during the role play practice are all positive feedback items for review.
4. Allow role-play to be an open-book experience where the participant can look at his or her notes.
5. Provide scripting for complicated or otherwise new dialog and stay on script.
6. After the role-play each member of the group will provide one positive comment about what they heard or saw.
7. The instructor will summarize and reinforce what was done effectively.
Role-play practice will help you gain confidence and produce better results. Give it try and find out for yourself.
---
New Sales Training Course Featuring Role-play:

My Learning Center is proud to introduce the Selling MORE In-Home Sales Call Process Workshop, an exciting new course that utilizes role play to teach the proven TRUST® Sales Process. This course allows participants to practice a repeatable sales process that produces better results in both closing percentage and higher ticket sales.
Students completing this course will:
Customize the proven TRUST® Sales Process to fit their sales situation.
Be more comfortable and confident in engaging the customer in the sales call.
Find out what the customer's real needs are.
Create a three or four choice proposal and practice presenting it.
Ask for the sale with finance choices.
Practice responding to common objections and turn "no" into a sale.
If you are looking for a breakthrough sales training program that will challenge you without "putting you on the spot," then this one is for you. Sell more jobs for more money, and create happier customers at the same time!
Contact your distributor for more information on the Selling MORE In-Home Sales Call Process Workshop.
---
About the Instructor:
Tom Piscitelli's 40 years' experience in HVAC sales training, sales management, sales coaching, marketing and consulting have given him a broad and diverse business expertise. He has developed his sales training and business capabilities by working with major manufacturers, distributors, contractors, builders and utilities. His articles have been published in many trade magazines, he often speaks at industry conventions and he particularly enjoys bringing cutting edge training approaches to our industry.
About TRUST® Training and Coaching:
Tom founded TRUST® Training and Coaching 1997 and began conducting sales seminars that have improved the confidence and sales performance of over 10,000 HVAC sales professionals. TRUST® Training and Coaching is an authorized training provider for International Comfort Products.