Five Ways to Get More Facebook® Likes
Gain More Popularity on Facebook®1 with These Tips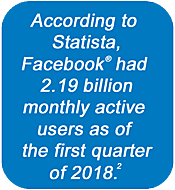 According to Statista, Facebook had 2.19 billion monthly active users as of the first quarter of 2018.2 Wow! That's a lot of potential customers to reach online.
Wouldn't it be great if your Facebook business page could gain more popularity? Here are five easy ways to get more Facebook likes:
1. Make Your Facebook Page Easy to Locate: If users can't find your page, they can't like it nor follow it. You may need to increase your page visibility on Facebook.
Use the About Section to Your Advantage: One of the easiest ways to make your page easy to find is to complete the About Section of your Facebook business page. Incorporate your business story, marketplace philosophy, brand information, milestones and key contact information (including links to your website, blog, and other social media accounts) so users can easily locate your page when they search on Facebook. Purdue University®3, for example, utilizes every category in the About Section to make its Facebook page easy to locate.
Use the About Section to Increase Your Visibility on Facebook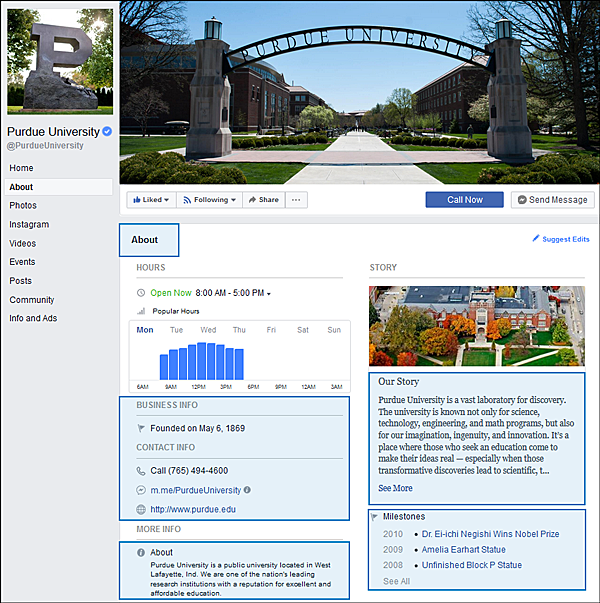 ---
2. Post Engaging Content Often: Post relevant information (that ideally ties back to your brand/business) and post frequently to keep users engaged. Here are a few ideas to keep quality content flowing on Facebook:
Be Educational and Entertaining: Post HVAC and DIY home tips to educate customers and be involved in online conversations as an HVAC resource. Share posts from the Heil® Heating & Cooling Products Facebook page. Search for funny but tasteful cartoons, images or other information that ties back to your business (provide the proper credit for any copyrighted information). People love to learn and laugh on Facebook.


Provide a Call to Action: Don't forget to ask users to share, like and comment on your posts, or join you for an educational workshop or event at your business.

---
3. Increase Your Visual Content: A picture is worth a thousand words and this couldn't be more true on social media.
Get Creative with Visuals or Infographics: Create a visual or develop a quick chart using a quote or statistic to engage users. Nadya Khoja, in her article "How to Create Stunning Infographics for Social Media in Minutes,"4 provides some helpful tips on how to create your own visuals for Facebook.


Incorporate Shareable Images and Video: People like to see people doing amazing things. Take photos of your employees with a customer who praises them for a recent installation. Have one of your technicians demonstrate how to easily change an AC filter or program a thermostat. Post those memorable moments and video on your Facebook page.
---
4. Link Your Facebook Page to Your Website, Emails and Other Social Media Platforms: Cross-promote your Facebook page wherever possible. Include your Facebook link/button on your website, in your email signature, and on other social media accounts so people can easily find your page, like it and start interacting with you. Heil-HVAC.com has a Facebook button in a prominent location on the website.

Cross-Promote Your Facebook Page on Your Website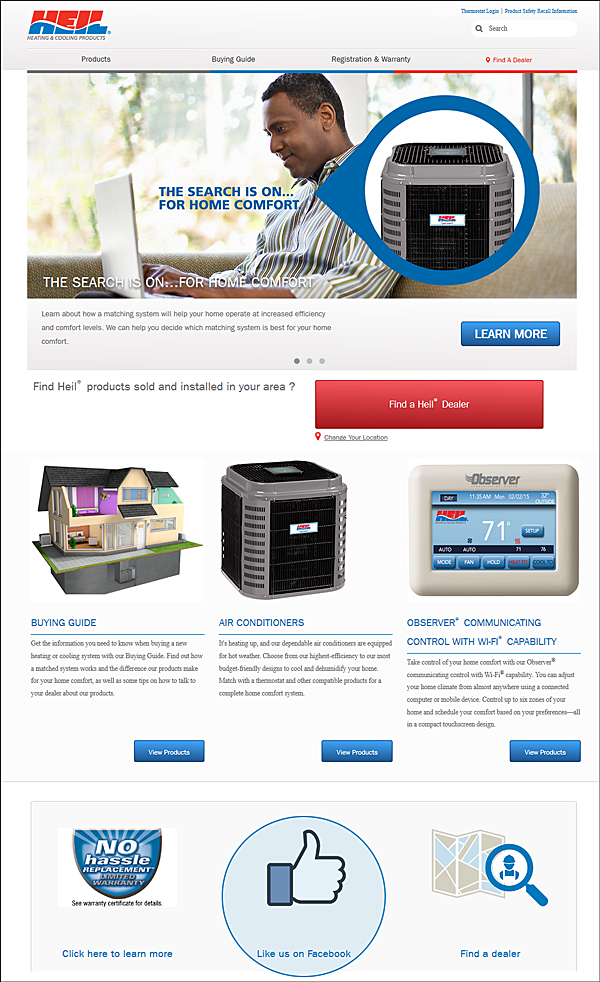 ---
5. Interact with Other Groups on Facebook: Join other groups on Facebook who are in an affiliated business to connect with potential clients who are interested in the same topics you are: DIY, home improvement, energy-saving initiatives, etc. As long as you serve as a helpful resource (be an educator rather than a salesperson), you could gain new followers from the group.

---
Want to get more likes on Facebook? Today we discussed five easy ways to gain more popularity for your Facebook page: 1) make your page easy to locate, 2) post relevant content frequently, 3) use more photos and videos, 4) cross-promote your page, and 5) interact with other Facebook communities to extend your reach. These simple tactics can help you increase your social media engagement.
---
1 Facebook is a registered trademark of Facebook, Inc.
2 https://www.statista.com/statistics/264810/number-of-monthly-active-facebook-users-worldwide/
3 Purdue University is a registered trademark of The Trustees of Purdue University.
4 https://maximizesocialbusiness.com/create-stunning-infographics-social-media-minutes-23797/