Show Customers the Smarter Choice...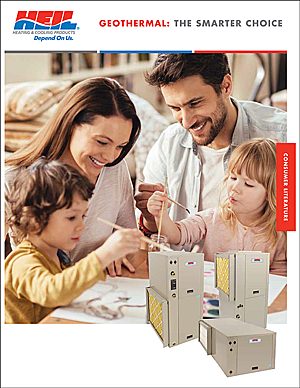 New Geothermal Consumer Marketing Resources
Demonstrate Why Geothermal is the Smarter Choice
with Updated Consumer Literature and Floor Displays

New consumer literature and retractable floor displays are now available! These updated marketing tools focus on the energy efficiency, superior comfort and variety of options the Heil® geothermal product line offers homeowners.

---
New Consumer Brochures
The geothermal consumer brochures now include information on:
How Geothermal Works
How Geothermal Loops Work
The Complete Arcoaire Geothermal Product Line
The Features and Benefits of a Geothermal System
Geothermal Tax Credits
Cost Comparisons
Frequently Asked Questions
Click here to download a pdf file of the new Heil Geothermal Consumer Brochure. Brochures can also be ordered via the normal literature process.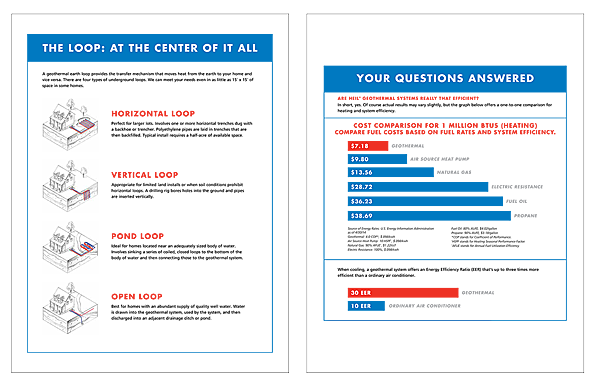 ---
New Floor Displays
A deluxe geothermal retractable floor display (33.5" x 80") can be purchased for use at trade shows or as an office display. Cost is $219 each plus shipping and handling (includes the graphic display and a carrying case with strap).
Contact your distributor for more information on ordering a Heil Geothermal Retractable Floor Display.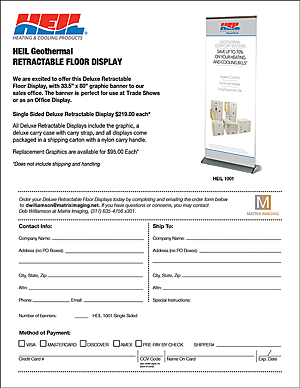 ---
If you have additional questions, please contact Heil Geothermal Sales Manager Eric Senio.

Your customers are sure to love these new consumer brochures and floor displays. Demonstrate to them why geothermal is the smarter choice!