Let AdVantageSM Manage Your Facebook® Business Page
From its humble beginnings less than 15 years ago, Facebook has grown into the most popular social media network in the world. Facebook boasts 2.13 billion monthly active users and 1.4 billion daily active users.1 Even with such a remarkable user base, Facebook continues to grow at a steady rate, with an average of 400 new users signing up EACH MINUTE!2
Maintaining a strong social media presence has become essential for local businesses. If you don't have a Facebook business page for your company, you're missing the chance to connect with potential customers all of the time.
The two most common hurdles to building a robust Facebook business page are:
1. Creating or finding good content.
2. Finding the time to effectively manage the page.
If these issues sound familiar, it's time to let AdVantageSM do the work for you!
That's right: AdVantage now offers Automated Facebook Business Page Management.
---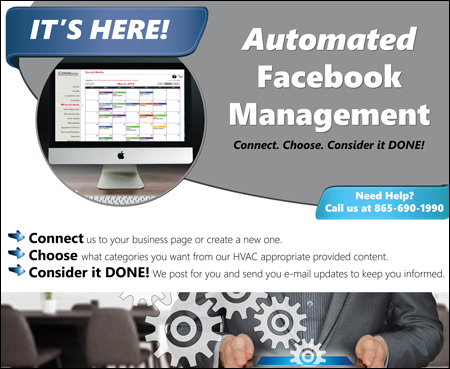 Whether you are starting from scratch, or simply don't have time to adequately manage your Facebook business page anymore, AdVantage can help you with:
CONTENT: Select the type of content you'd like posted on your page, and AdVantage will do the rest.

SCHEDULING: Schedule content yourself or have AdVantage do it for you. You'll be able to opt out of unwanted posts and ads.

COMMUNICATING: AdVantage will keep you up-to-date on viewer comments and responses.

ADS: If desired, AdVantage will schedule Facebook Ads to your target audiences to help generate business.

TRACKING: AdVantage will let you know if your Facebook campaign is working. If not, we'll make changes to better meet your needs.
Cost: $210 per month with DISCOUNTS available with annual subscriptions.
---
Wondering how to get started?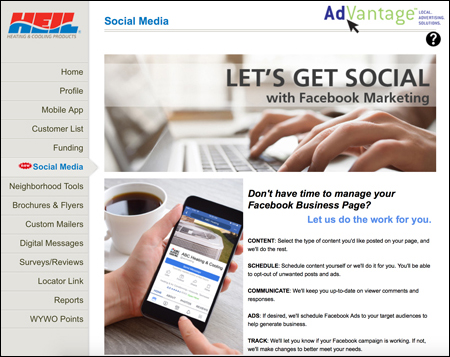 1. Log into your AdVantage account and click the social media tab.
2. Scroll down and click Start Your Free Trial or Sign Up Now.
3. AdVantage will pass you through to Facebook and walk you through the steps to create a Facebook profile and business page or connect to an existing one.
4. Facebook will pass you back to AdVantage to update any missing information from your Facebook Business Page.
5. AdVantage will ask you to select the type of posts you would like to see on your page. You can see examples of all the various categories of content and select which ones you would like to see and how often. Options include HVAC, DIY, Humor, etc.
Don't forget to add an email address to receive monthly post approvals and Facebook messages.
Then click "Get Started."
That's it! You are now set up for automated posting.
Your calendar in your AdVantage Portal will populate with future posts the next day. Posting will automatically start as soon as the following Sunday.
Watch this helpful video with step by step instructions for signing up for Automated Facebook Business Page Management.
---
Wondering how to access the AdVantage program?
Go to www.GoHeil.com.
Click the "Secure Dealer Login" button at the top of the screen to login.
Enter your dealer phone number and password in the spaces provided on the login page. (If you are a first time user, click the "Register Now" link or call 1-865-690-1990 for assistance.)
Click the "My Heil AdVantage Portal" link to go to your site and get started boosting your business today!
AdVantage is a registered service mark of MatchCraft, LLC.
Facebook is a registered trademark of Facebook, Inc.
1https://newsroom.fb.com/company-info/
2https://sproutsocial.com/insights/facebook-stats-for-marketers/#general