Geothermal Tax Credits Extended!
Encourage Homeowners to Take Advantage of the
U.S. Federal Tax Credit Extension for their
Heil® Geothermal System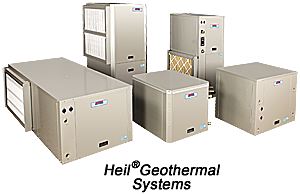 The Heil geothermal product line provides consistent comfort, energy savings and sustainability as well as superior efficiency when compared to ordinary air source units.

As a successful HVAC contractor, you know how important it is to educate your clients on the premium features and benefits associated with a Heil geothermal system.

And, now, you can share the news that the U.S. federal tax credits for qualifying geothermal heat pumps have been extended to 2022!

U.S. Federal Tax Credit Extension: Making Geothermal More Affordable

What is the time frame? Federal legislation was passed in February 2018 extending the tax credits for residential and commercial geothermal heat pumps, making geothermal systems even more affordable. According to ACHR News, residential geothermal tax credits are retroactive to January 1, 2017 and extended to December 31, 2021. Commercial geothermal heat pump projects are eligible for the tax credit if commenced by January 1, 2022.1
What is the tax credit amount? According to the Continuing Resolution spending bill and the Geothermal Exchange Organization, tax credits are:

30 percent (no cap) for installation from January 1, 2017 to December 31, 2019

26 percent in 2020
22 percent in 2021 with final expiration on December 31, 2021.2,3
Any additional requirements? The geothermal system must meet ENERGY STAR®4 requirements to be eligible for the tax credit5. Click here for more information. Heil geothermal heat pumps meet ENERGY STAR requirements.

Encourage customers to take advantage of the tax credit when they purchase an energy-saving Heil geothermal system.
---
1 https://www.achrnews.com/articles/136527-geothermal-heat-pump-tax-credits-reinstated
2 https://www.congress.gov/bill/115th-congress/house-bill/1892/text?q=%7B%22search%22%3A%5B%22budget+2018%22%5D%7D&r=4#toc-H0556EF358AC64ACB86BA4A2377293E17 (Sec. 40401, 40402, 40411)
3 https://www.geoexchange.org/wp-content/uploads/GEO-Industry-News-February-2018.pdf
4 ENERGY STAR is a registered trademark of the U.S. Environmental Protection Agency and the U.S. Department of Energy.
5 No guarantees are given or implied regarding the eligibility of an individual to receive tax credit under this program or how such credit would apply. Please consult a tax professional to determine eligibility for and application of the credit(s).