Hidden amongst all the debate and commentary surrounding the recently enacted Tax Cuts and Jobs Act of 2017 lies a lesser known but very important provision for the HVAC industry.

Title 26 U.S. Code Section 179 states:

"A taxpayer may elect to treat the cost of any section 179 property as an expense which is not chargeable to capital account. Any cost so treated shall be allowed as a deduction for the taxable year in which the section 179 property is placed in service…Qualified real property includes heating, ventilation, and air-conditioning property."1

What does that mean?

Under the old laws new heating and cooling system costs were generally capitalized and depreciated over a period of up to 39 years by businesses, providing minimal tax incentives to purchase new HVAC equipment.

The new law raises the cap on deductible business investments to $1 million, and makes HVAC equipment installed in commercial buildings eligible. Now businesses may be able to expense HVAC system investments up to the cap, deducting the full cost from taxable income in the first year instead of over a number of years.2
Consider this example from Air Conditioning Contractors of America (ACCA):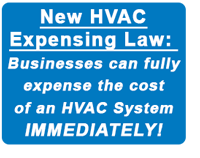 A business owner installs a new heating and air-conditioning rooftop unit. The equipment and labor for installation cost $14,000. Under old depreciation rules, the business owner could only claim approximately $350 in depreciation expense annually over 39 years. Under the new law, the business owner can deduct the full cost of the HVAC equipment of $14,000 (including installation costs) in the year of the purchase and installation. At the top marginal tax rate that would be applied to this purchase, this change could save the business owner $5,180 in taxes.3
Check out this helpful infographic.

Commercial customers considering an HVAC system upgrade now have serious tax incentives to do so!