Volume 1: Creative Ways to Enhance Your Email Marketing Campaign
Five Easy Ways to Build Your Email List

Is email marketing a low-cost, effective way to reach new customers and stay in contact with your current client base? Absolutely!

According to the Radicati Group, there were 3.7 billion email accounts worldwide in 2017 and the average number of emails sent per day was 269 billion.1 Not surprisingly most people — 86 percent or more — say email is their favorite method of communication.2
If you are new to email marketing, click here for more information on how to get started. If you've already jumped on the email marketing bandwagon, this story is the first in a series of creative ways to enhance your email marketing efforts. Here are five simple steps to build your email list quickly:

---
1. Sign-Up Sheet: Develop a sign-up sheet for use at trade shows, community events and your business (in the showroom, on sales calls, tech service calls, etc.). Provide potential customers with an incentive for providing their name and email address (i.e., free furnace or AC inspection, cleaning or filter change) and ensure they understand they will be receiving email updates from you on special offers and the latest HVAC products and tips.

Sign-Up Sheets are a Great Way to Add to Your Email List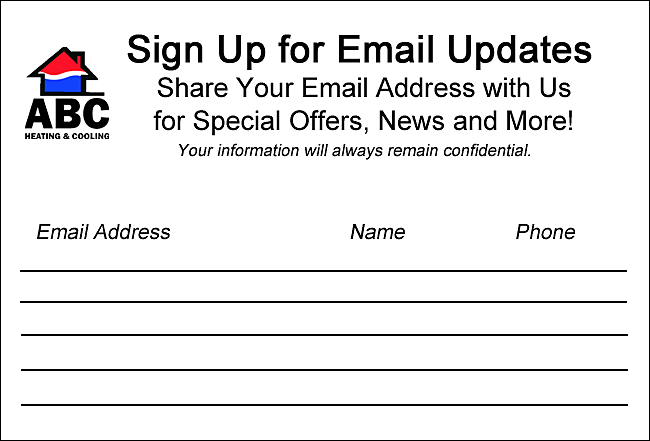 ---
2. Put an Email Opt-In Form on Your Website: Place an opt-in form or an email registration box on each page of your website so you don't miss a new customer. Think of it this way: if the customer is on your website checking out your products and services, they must be in the market for a new HVAC system or service (and they may be willing to subscribe to your emails to find out more about your business or get a sweet deal).

"Opt-imize" Your Website with an Opt-In Form


---
3. Exchange Business Cards: Whenever you meet someone new, exchange business cards and ask them if you can add them to your mailing list. You can even use your business cards to build your email list. On the back, explain that any new customer who signs up for email updates on your website will receive a coupon or special offer. You could also have a "business card drawing" every month for people who stop by your business and place their cards in the bowl. Reward them with a gift card or other perk.

---
4. Take Advantage of Your Invoices, Purchase Orders and Receipts: Be sure to ask for each customer's name, address, phone number AND email address on your invoices, purchase orders and receipts so you can add them to your email marketing list. Encourage customers to provide their email addresses so you can follow-up regarding routine HVAC maintenance and service as well as providing them with future discounts.

---
5. Don't Forget Direct Mail: For some customers, you may have a physical address but not an email address. Entice them to "Join Your Email Club" by offering them a special deal they can only get once they go to your website and sign up. Or, add a QR code to the postcard that links to the email registration on your website to grow your list.

Use Direct Mail to Grow Your Email List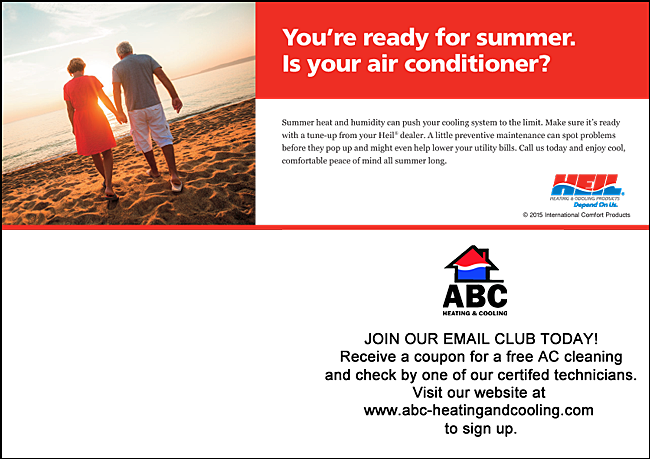 ---
Email marketing is a great, affordable way to reach new customers and stay in touch with current customers. Hopefully these 5 tips have provided a few creative ideas for growing your email list. Stay tuned on GoHeil.com for Volume 2 of this email series, where we will provide more easy ways to enhance your email marketing strategy.

---
1 www.radicati.com/wp/wp-content/uploads/2017/01/Email-Statistics-Report-2017-2021-Executive-Summary.pdf
2 https://www.lifewire.com/how-many-emails-are-sent-every-day-1171210