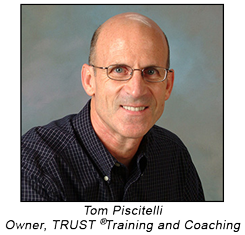 In recent years, most contractors have begun offering customers choices when selling products or services. Service technicians are taught to offer three recommendations on all proposals. Flat rate pricing programs now come with up to five predetermined "packaged" choices for a particular repair. Some replacement system software programs show three or four choices as well.
The reason for offering choices is very good one:
It works!
Personally, I saw the light over a decade ago when Energy Star® published their landmark consumer study that tested consumers' preference for generic products when only prices were shown.The study arrived at two conclusions:
1. When given three choices with prices elevated by 40% over the baseline, and then doubled, approximately 20% chose the base, 60% chose the middle, and 20% chose the most expensive product.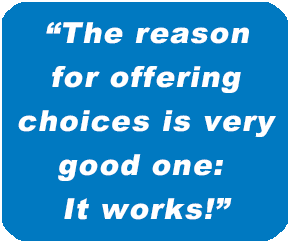 2. The study concluded that showing the most expensive product first create a higher value perception than showing that same product last.
The results of this study reversed most thinking at the time. Most salespeople had been offering three choices as Good-Better-Best, but quickly reconfigured their strategy to Best-Better-Good. The combination of offering three choices and showing the best one first revolutionized our sales approach and certainly created improved results.

Does this strategy apply to our industry as well?

I recall presenting this concept to a group of HVAC dealers years ago. One of them came up after the event and said that he had heard about that study a year prior. He said he had been successfully showing three choices for years, but in the order of Good-Better-Best. He tested reversing the order and was surprised at the improved higher-end sales results. Not believing that such a simple change could make a such a significant difference, he went back to his previous method and the results dropped off again. Need any more evidence than that?
What about adding a fourth choice?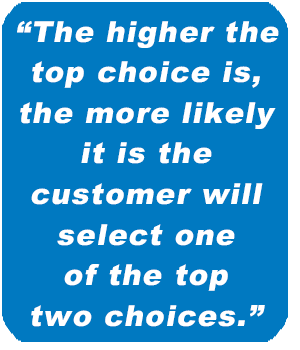 Since then I have had clients who have offered four choices and compared those results to just offering just three choices. They made some interesting findings:
► When the added fourth choice was a lower-priced "builder grade" level, the average sale didn't change much because it mostly included the middle two choices.

► When the fourth choice was elevated to a premium level, such as an inverter system with duct replacement or duct modifications, or a ductless or geothermal alternative, then the average sale rose significantly, with a few at the premium level and more at the next lower level.

In other words, the higher the top choice is, the more likely it is the customer will select one of the top two choices.

Not convinced? Just give this a try and you will be. Offering choices is a sure-fire way to increase both average job selling prices and close rates…and create happier customers.