Digging Up Good Social Media Content
Where's the Goldmine?

As a successful HVAC contractor in an Internet-driven world, you are always digging for fresh content to keep your Facebook®1 fans and YouTube™2 followers engaged. One of the easiest ways to gain valuable content is to share it from relevant sources. So, where's the goldmine of information?

Let's look at a few resources that can save you considerable time and lead you to social media content that's "golden":
---
1. Heil® Facebook Page: The Heil® Heating & Cooling Products Facebook page is a valuable resource. Relevant product information, HVAC tips and DIY suggestions are posted each week. We encourage you to SHARE this content through your social media channels. Visit us, Like our page and start sharing!
The Brand Facebook Page is a Valuable Resource
for Social Media Content You Can Share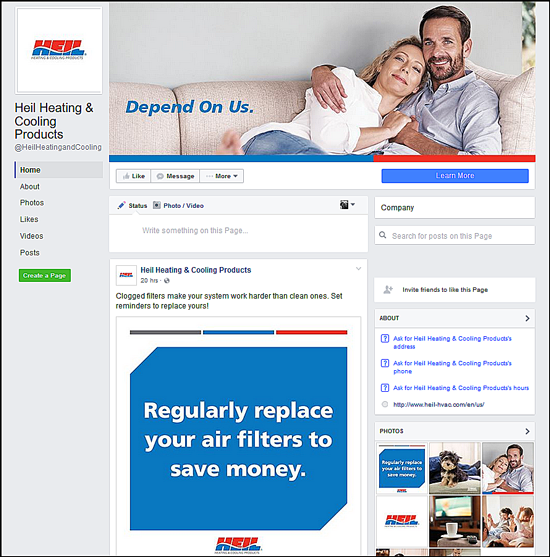 ---
2. Home Improvement or DIY Sites: Obviously your social media followers see their homes as an investment, so providing them with some home improvement tips may be helpful. HGTV®3 and DIY Network®4 are two good places to start:
HGTV.com®3: HGTV started out in 1994 as Home and Garden Television, a cable TV show that included a series of "how to" shows on home decor and gardening. Now, HGTV is the third most watched cable TV channel in the U.S. HGTV.com is a goldmine of social media content, including everything from quick bathroom and kitchen upgrades, to holiday decorating and yard makeovers.

DIYNetwork.com®4: DIY Network began as a spinoff of HGTV in 1999. The DIY Network TV show is a documentary-style, "do-it-yourself" home repair and renovation program. DIYNetwork.com includes more "hands-on" content for the fans/followers who want to work on home projects themselves.
DIYNetwork.com Includes "Hands-On" Home Improvement Content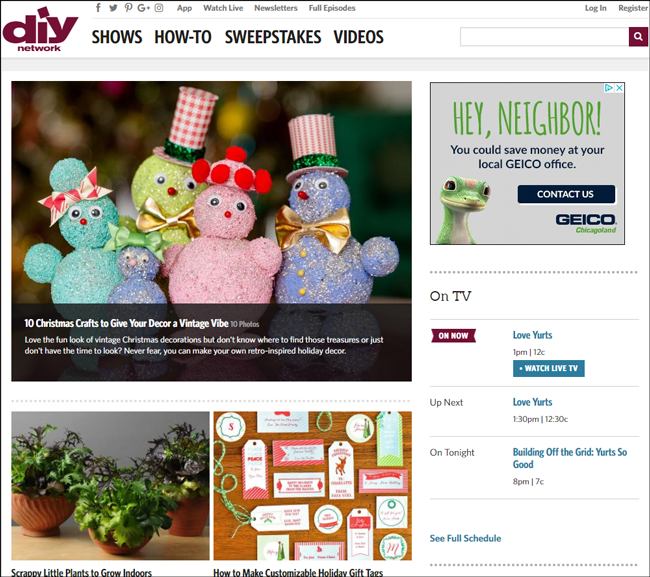 ---
3. Google™ Alerts3: It's easy to use Google Alerts to monitor the web for new, interesting content:

Click here to open the Google Alerts page.
Determine what topics (i.e., the name of your business, HVAC, ductless, energy, home improvement ideas, etc.) you would like to create an alert for.
Type the topic in the box at the top of the page that says, "Create an alert about...". You will then be prompted to enter your email address so Google Alerts can send your alert summary.
Click on "Options" to set advanced parameters such as how often you would like the alerts sent, what sources, what regions, etc.
You should start receiving emails from Google Alerts that contain relevant news and information related to the topics you've chosen.
Google Alerts is "Golden" for Locating New and Interesting Web Content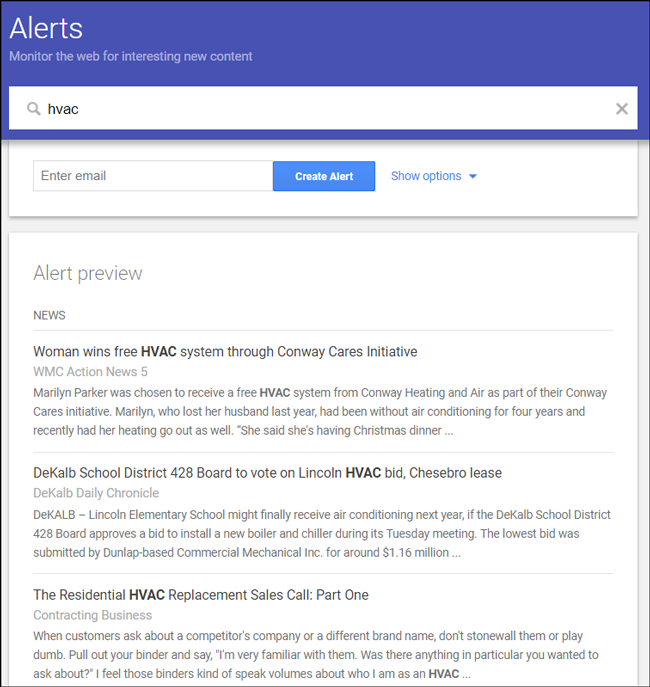 ---
4. News Sites: There are thousands of news sites that you could utilize to locate relevant social media content. Let's narrow it down to a few noteworthy sites that will help you find those "golden nuggets" of information in a timely manner:
Digg.com®6: Digg.com is a news aggregator site, so it assembles syndicated news feeds, tweets, and other news content from around the Internet into one convenient location. Once on the site, you can select one of the categories at the top: news, technology, political, science, etc., or you can use the "Search" function to select more specific topics for your audience. Happy digging!

The New York Times: What We're Reading®7: Since The New York Times is one of the nation's leading newspapers, it just makes sense to turn to their writers and editors for great news you can use. The New York Times: What We're Reading is an e-newsletter that you can receive a few times a week. Each e-newsletter includes "great reads from around the web" that have been hand-picked by the writers and editors of The New York Times. Click here to visit the site and sign up.
Turn to The New York Times: What We're Reading E-Newsletter
for the Latest News You Can Use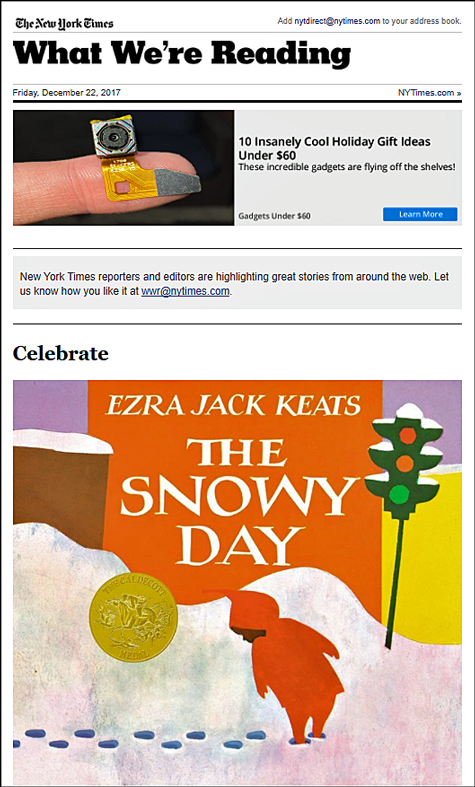 ---
5. HVAC Industry Sites: The HVAC industry websites that you regularly visit are always good resources for social media content, as long as you choose content that is useful for customers.

It is not uncommon for ACHRNews.com®8 or ContractingBusiness.com®9 to write stories discussing HVAC trends in equipment or the benefits of geothermal or ductless systems. Energy.gov®10 also has information on energy-saving tips for homeowners. These topics can be easily translated into social media content for your customers.
Get Energy-Saving Tips at Energy.gov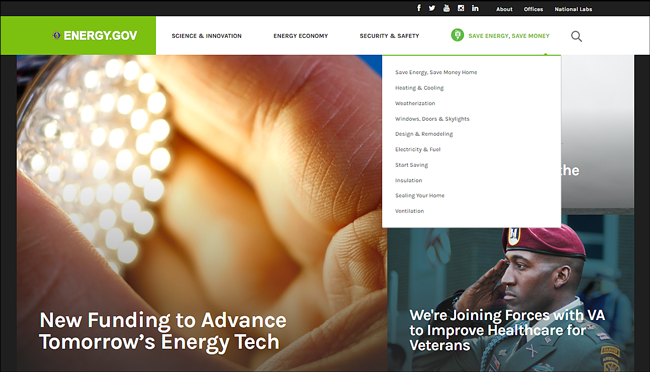 ---
Where's the goldmine? Hopefully we provided some great places to start digging. As you know, it's important to provide a variety of social media posts, including useful information, news, funny stories, and home improvement tips in addition to HVAC sales pitches. With this list of Facebook pages, home improvement and DIY sites, noteworthy news sites and industry sites on your map, you'll be posting social media gold in no time.
---
1Facebook is a registered trademark of Facebook, Inc.
2YouTube is a trademark of Google Inc.
3HGTV and HGTV.com are registered trademarks of Scripps Networks Interactive
4DIY Network and DIYNetwork.com are registered trademarks of Scripps Networks Interactive.
5Google Alerts is a trademark of Google, Inc.
6Digg.com is a registered trademark of Betaworks.
7The New York Times: What We're Reading is a registered trademark of The New York Times Company.
8ACHRNews.com is a registered trademark of BNP Media.
9ContractingBusiness.com is a registered trademark of Informa, USA, Inc.
10Energy.gov is a registered trademark of the U.S. Department of Energy.