Top Five Social Media Services
Top Five Social Media Services

Now that you have your Facebook®1, Twitter™2 and YouTube™3 business accounts up and running, you are continually on the hunt for engaging social media content, right?

Here's the good news: There are many online resources that can help organize your social media activity and generate content, as well as help schedule and monitor your posts, tweets and photos to keep customers engaged. Most of them are fee-based, but they can save you considerable time and help deliver results on your social media campaign.
Here are our Top Five picks to help you make the most of your great social media content:
---
1. BuzzSumo®4: BuzzSumo.com is a wonderful tool for finding fresh content. It's handy for researching content to determine what people are sharing the most on social media. Simply type in a keyword or phrase and BuzzSumo will tell you what content is trending on Facebook, LinkedIn, Twitter, Pinterest®5, Google+™6 and more. You can even filter the results by date and content type (i.e., articles, guest posts, videos, etc.).

Once you know which content is "all the buzz," you can build your posts around that topic to increase your chances of engagement. You can even track what others are posting about a particular idea and also see what your competition is posting.
BuzzSumo offers several plans for a monthly fee. Services start at $99 per month for small businesses.

BuzzSumo is a "Search Engine" for Fresh Social Media Content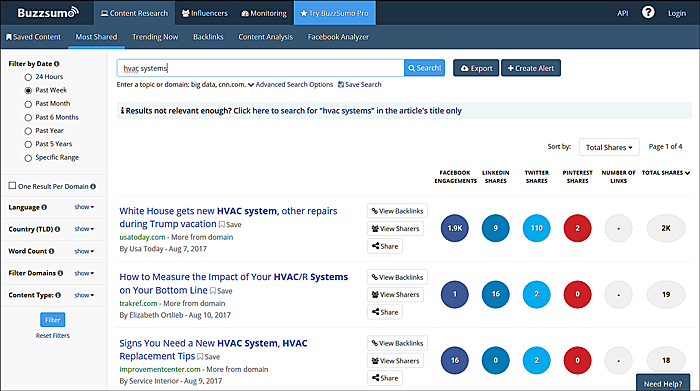 ---
2. HootSuite®7: HootSuite.com can help you discover new content and manage all your social media platforms from one convenient location — the HootSuite dashboard.
HootSuite even has a "Suggested Content" tool that analyzes your previous social media posts and suggests related topics so you can update or repurpose the information to keep your audience engaged.
HootSuite offers a free 30-day trial and a variety of packages for a monthly fee following the free trial. Packages start at $99 per month.
---
3. CoSchedule®8: CoSchedule.com is similar to HootSuite, but it focuses more on the scheduling component of social media. It includes a drag-and-drop calendar that helps you plan, create and promote all of your social media content.
CoSchedule can help you pre-schedule social media messages in bulk and track the results via the "Analytics" tool. It even has a "Best Time Scheduling" feature that helps you schedule your social media posts at the optimal time to get the most engagement.
CoSchedule offers a free editorial calendar trial for two weeks and several plans thereafter. Plans start at $60 per month for teams.

CoSchedule Utilizes an Editorial Calendar to Easily Pre-Schedule Social Media Messages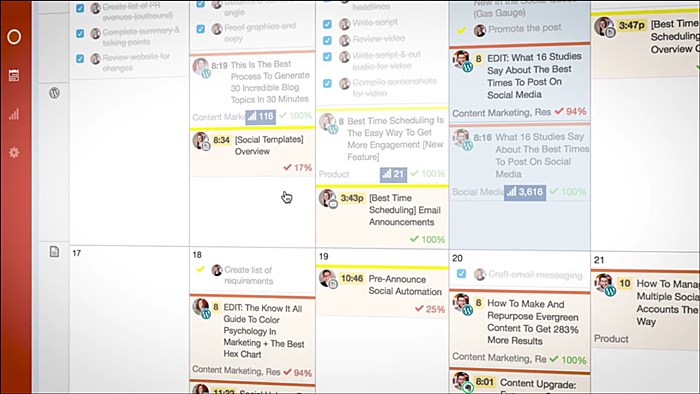 ---
4. Visual.ly®9 or Piktochart®10: Have something great to say online but need an attention-grabbing photo or infographic to go with it? Visual.ly or Piktochart can help with the visual aspect of your social media content.

Did you know that Facebook posts with photos, videos or infographics get 53% more likes, 104% more comments and 84% more click-throughs than text-only posts? Pictures are worth a thousand words in the social media world, so check out Visual.ly or Piktochart today.
You can provide project parameters and request a quote from Visual.ly, and Piktochart has packages that start at $15 per month.
---
5. Fiverr®11: Fiverr.com is a comprehensive online service that assists small businesses with a variety of digital services — everything from social media marketing to writing and graphic design.

For each project, you choose the:
platform type (i.e., Facebook, Instagram®12, Twitter, etc.)
service (i.e., page setup, schedule posts, campaign development)
delivery time (i.e., complete within one day, three days, a week)
price range, and
freelance contractor.
After you've set the parameters for your project, the freelancer gets started and you're on your way.
Fiverr's services start at $5, hence the name "Fiverr," and can go up to thousands of dollars, depending on the extent of work and time frame you request.

Fiverr Freelancers Assist with a Variety of Digital Services Including Social Media Marketing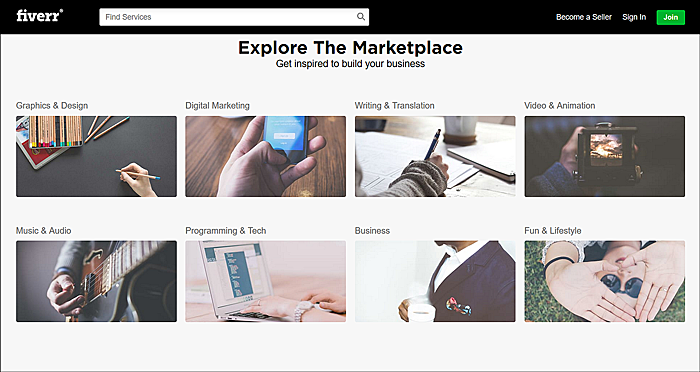 ---
If you would like to save time while still engaging customers on your social media platforms, one of these "Top Five" social media content and scheduling services may be the perfect solution. While our list just covers five of the social media resources...there are dozens on the Internet to research. For any social media marketing service, ensure that you specifically outline your project, time frame, budget and goals to achieve the results you want.
---
1Facebook is a registered trademark of Facebook, Inc.
2Twitter is a trademark of Twitter, Inc.
3YouTube is a trademark of Google Inc.
4BuzzSumo is a registered trademark of Buzzsumo Ltd.
5Pinterest is a registered trademark of Pinterest, Inc.
6Google+ is a registered trademark of Google Inc.
7HootSuite is a registered trademark of HootSuite Media US Inc.
8CoSchedule is a registered trademark of Coschedule, LLC
9Vissual.ly is a registered trademark of Piktochart Sdn. Bhd.
10Piktochart is a registered trademark of Buzzsumo Ltd.
11Fiverr is a registered trademark of Fiverr International Limited
12Instagram is a registered trademark of Instagram, LLC