Where Do You Get Your HVAC Info?
The Latest Industry Information AND Complete Product Information
What's on GoHeil.com Part 2
Do you wish there was a single website that regularly published informative stories on topics relevant to your industry AND provided you with access to complete information on the products you service and install?
You are in luck! GoHeil.com is that place.
GoHeil.com can be your one-stop-shop for all HVAC industry information. Take a look at some of the best features this website offers:
---
The Homepage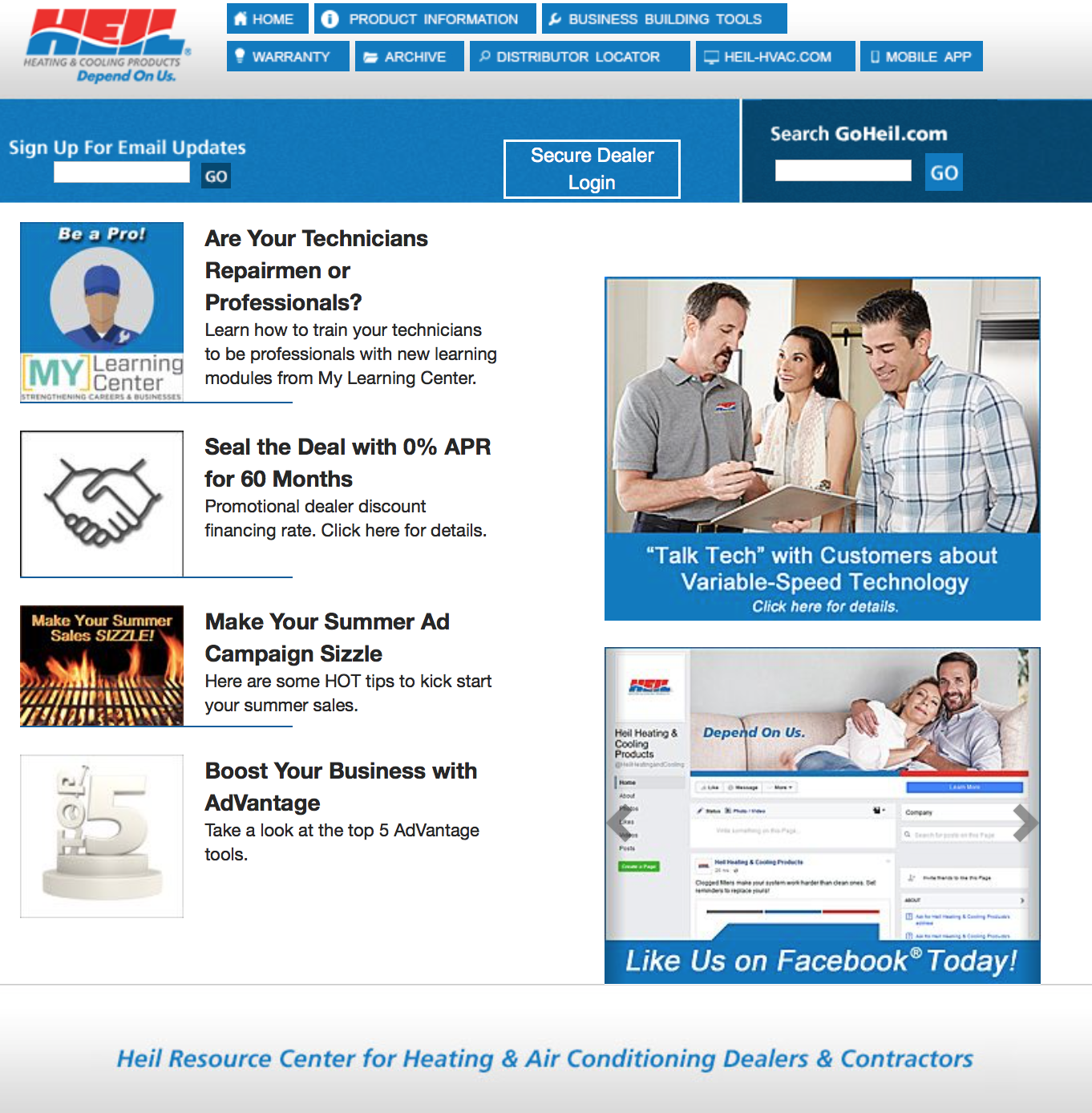 When you land on GoHeil.com, you'll see several stories on a variety of topics. New stories are released weekly. Topics include:

♦ New Heil® product information
♦ Changes to federal regulations
♦ New apps and online tools
♦ Free training modules from My Learning Center
♦ Expert business advice
♦ Industry trends and analysis
♦ Information on new marketing resources
♦ Promotions and specials
♦ Heil surveys


In the upper left-hand corner, you'll notice a box where you can sign up to receive e-updates. E-updates are emailed weekly and include links to the latest new content on GoHeil.com. Make sure you are signed up so you are one the first to find out when new stories have been posted.


Look for this link at the top of the any page on the website:

---
Archive
At the top of the page, you will find a link to the new and improved Archive:



Stories move to this section once they rotate off the homepage. Archived stories are organized by category for easy reference. If you haven't visited the website in a while, this is a good place to catch up on recent news.
---
Product Information
Look for this link at the top of any page on the website:



On this page, you will find complete information about all lines of Heil products, as well as links to helpful tools, tax credit information and government regulations. On the left-hand side, you will find links to just about everything you could possibly need related to Heil products.
Link

Description

Technical Literature

This page contains a library of technical literature such as brochures, installation instructions and data sheets for all Heil product groups in PDF form.

2015 Minimum Regional Efficiency Standards

This page contains complete information on the 2015 Regional Efficiency Standards for air conditioners and heat pumps, including links to helpful websites.

CEE

Directory of Efficient Products – Link to a searchable database of efficient equipment from the Consortium for Energy Efficiency.

Combination Ratings Database

On this page you can search for AHRI Ratings & Tax Credit Certification information.

Commercial Photos

ICP Commercial Line product photography available for download and use in your local advertising materials.

Consumer Color Literature

This page contains a library of product literature designed for consumers.

Consumer Product Safety

Contains information on all active product recalls.

Ductless Product Catalogs

Download the Ductless Product Catalog in English or French.

Equipment Selection Program

Link to access the Equipment Selection Program online. If you don't have a login, you can request one on the page.

Excel Files For Tax Credit Split System Combinations

Useful files listing ratings of various Heil air conditioner and heat pump configurations for tax credit purposes.
FAST HVACR Parts
Link to the FAST HVACR Parts website, where you can find a catalog, literature and distributor information on FAST Parts.

Geothermal Looplink Software

Use this tool to quickly and easily design loopfields for multiple zone, multiple heat pump geothermal systems from anywhere. A subscription is required.

Geothermal Nomenclature Builder

This tool allows you to configure a Heil geothermal system to fit your customer's needs, down to the correct model number.

HVAC Equipment Cost of Operation Calculator

This exciting new tool is specifically designed to determine the estimated annual cost and the estimated annual savings to operate a Heil air conditioner, heat pump, dual fuel or furnace system using simple data and heating and cooling requirements.

Observer Wall Control

Contains all available Observer Wall Control documents, including brochures, a PowerPoint Presentation and demo file.

Product-At-A-Glance (PAAG)

Links to the Residential Warranties-, Residential
Products-, Multi-Family Products- and Commercial Products-At-A-Glance Brochures in PDF form.

Product Guide – Commercial

Links to the Heil Online Commercial Product Guide, with pages dedicated to each

Product Guide – Residential

Links to the Heil Online Residential Product Guide, with pages dedicated to each product or download a PDF of the guide.

State, Local and Utility Incentives

Link to DSIRE, a comprehensive searchable database of tax incentives.

Technical Evaluation Forms

Links to all technical evaluation forms in PDF form.

U.S. Tax Credit Manufacturers Certificates

These certificates make it easy for your customers to claim tax credits on qualifying system installations.
If you don't find what you're looking for, click on Technical Literature and use the search function that appears in the middle of the page.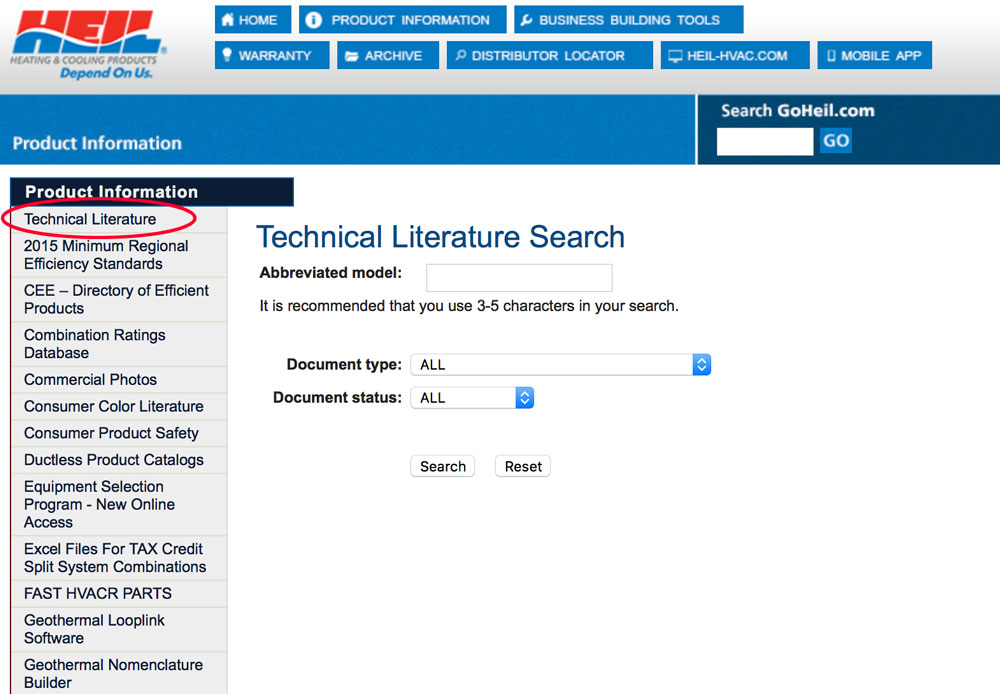 You can also search the entire website using the search bar at the top of each page.
---
Armed with the latest industry information and product information, you'll soon be the most knowledgeable contractor in the area!
Learn how to unlock the secrets of GoHeil.com in Part 3.