"My Leads Are Drying Up"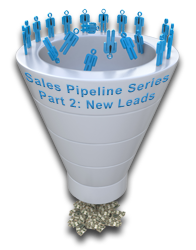 Managing Your Sales Pipeline Part 2:
Generating New Leads
New leads are the lifeblood of any business. Without them, sales dry up and business becomes very tight.

As we discussed previously, referrals are great, but can only take you so far. At some point, you will need to acquire new customers with little, if any, previous knowledge of your business.
Unlike retail or other industries, HVAC contractors rarely have a highly trafficked storefront for new customers to walk through, so how do you gather new sales leads? Consider the following ideas:
1. Dealer Locator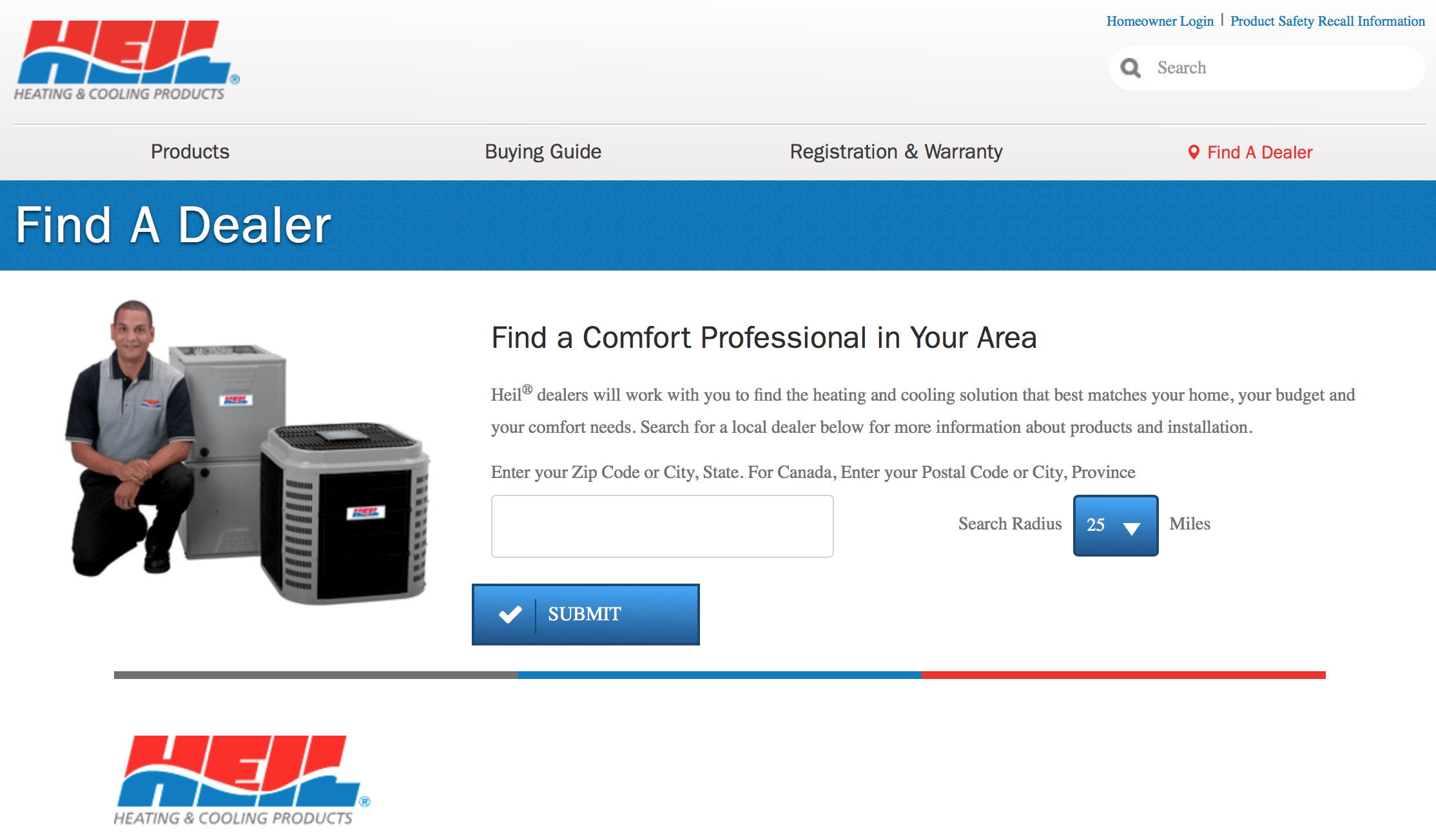 This is one of the easiest ways to generate new leads. When potential customers go to the Heil® consumer website looking for a local contractor, they use the Dealer Locator. It provides them with your contact information so they can reach out to you directly. The best part about this lead source is that it is completely free and requires no ongoing effort on your part—other than to pick up the phone when a new customer calls of course.
For more information on the Dealer Locator, click here.

2 .Create Good Content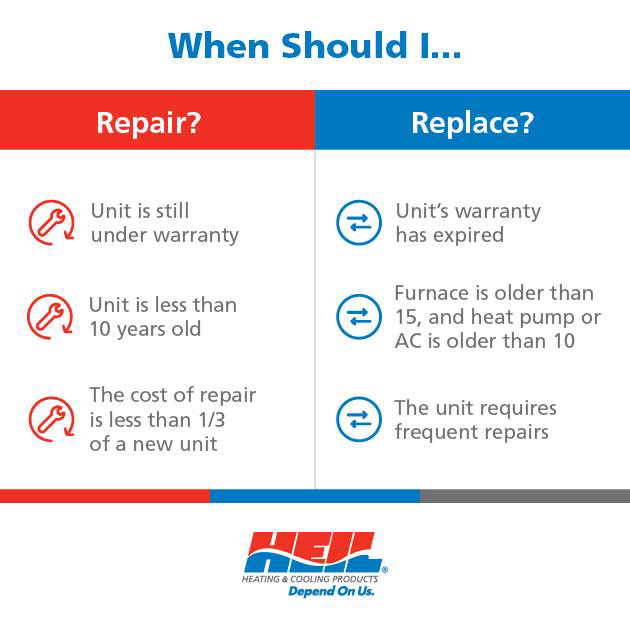 Good content is the heart of all your communications to potential customers. It can take the form of an article, blog, video or infographic which you will use on your website, social media posts and other communications tools.

Develop each piece of content around solving a problem or answering a question for potential customers. Think about topics like tips to keep your HVAC equipment in good working condition or ways to save money on energy bills.

Close each piece of content with a simple call to action that includes your business name and contact information. You can use this content in a variety of ways and position yourself as an expert in your field. Who doesn't want service from an expert?
For more information on creating video content, click here.
For more information on creating quality content, click here.
3. Website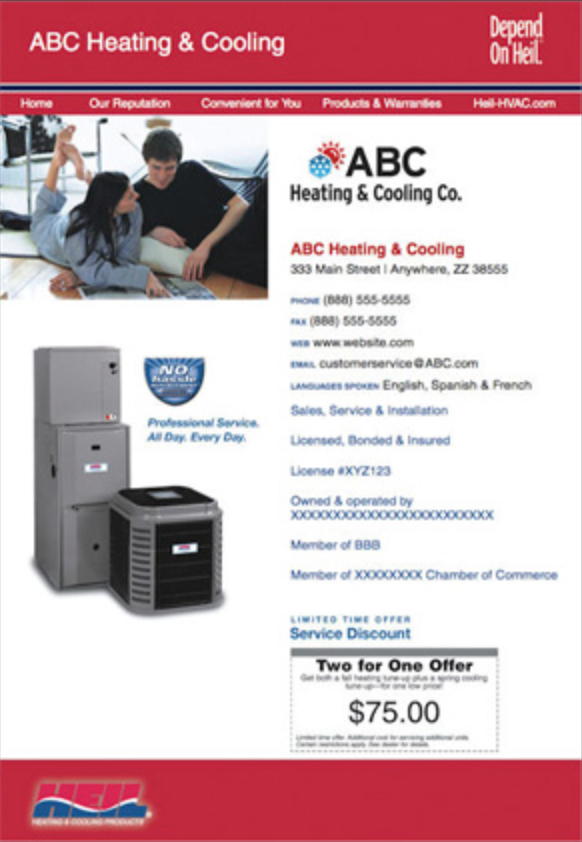 Your company website is where many new customers are first introduced to your business. Make sure your website functions well and works across all devices.
Many customers will search for a contractor on their smart phone while standing outside or in their basement next to their broken unit. If your website does not function well on a smart phone, consider yourself removed from consideration. Make your phone number very easy to find on your homepage and include a contact form so that customers can request service or a quote. Make it VERY easy for potential customers to reach out to you for help.
The chief goal of your website should be to convert visitors into leads. Use the good content we discussed above on your website to draw in visitors. By posting good content regularly in the form of a blog or video series, you can build a subscriber base that looks to you for their heating and cooling needs.
4. Social Media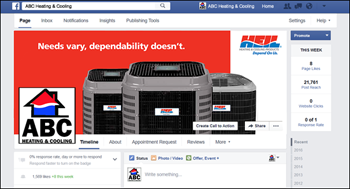 Much like your company website, your social media profiles are also one of the first interactions you will have with a potential customer. Social media allows customers to learn more about your business and begin to develop a relationship with you.
Repurpose the great content you are creating as social media posts to keep your profiles updated. Be sure to include a "call to action" in all of your posts that links back to your website. Robust and relevant social media profiles will also make your company website appear higher in search engine rankings. Social media is free to get started!
For more information on how to use social media for your business, click here.
5. Direct Mail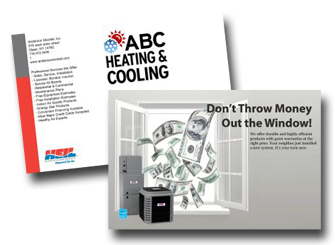 You may be of the opinion that direct mail is junk, but the fact of the matter is that companies use it because it works when properly utilized.
Heil provides you with access to the AdVantage program, which offers you several simple and effective direct mail tools. Download the app and send mailers to target neighborhoods from the comfort of your company truck. For best results, target homeowners in the neighborhoods you want to work in. If you want to sell more service contracts, you might consider targeting affluent neighborhoods in the suburbs, or if you are looking to sell more new systems, target neighborhoods with aging homes that are likely ripe for replacement.
For more information on the AdVantage Program, click here.
6. Local Ads


For local businesses, the value of name recognition is essential. Many customers will go with the first name they think of or come across when it comes to home repairs. To that end, local advertising cannot be ignored. Mobile ads are a great place to start. Consider starting by running ads on GoogleTM or other search engines, as well as local media outlets.
GoHeil has all the tools you'll need to get started.
And remember, don't stop advertising just because your business picks up. That means what you are doing is working. Effective advertising campaigns build up momentum over time. Don't stop advertising just because it's working!
---
Use these tips to keep the leads coming all year long!
We will discuss how to turn leads into customers in Part 3.