Offering financing benefits your customers by:
Allowing them to use their money in other places because they are not tying up a large chunk of money in a new HVAC system purchase.
Providing them a return on investment (ROI).
Allowing them to keep cash on hand for emergencies.
Offering them access to higher efficiency equipment that provides a greater ROI.
Allowing them to purchase more accessories to give them a system that more completely meets their needs.
Take the following steps to successfully implement a financing program for your customers today:
1. Enroll in the Heil financing program.
Heil provides access to the ICP credit card program offered through Wells Fargo Financial National Bank. Click here to read more about the program and download an Enrollment Package. Then follow the dealer enrollment instructions in the package. This choice is the simplest and most cost-effective way for you to offer financing.
Alternatively, you could work directly with a private lender. This choice is less optimal because without the Heil brand supporting your financing program, you are likely to receive higher rates and less favorable terms, which may limit what your customers can afford.
2. Offer financing to your customers on every sales call.
Don't try to guess if a customer is interested in financing. Offer it to all your customers by building it into each proposal.
Plant the seed early on by mentioning financing when you set up the appointment. Present the options up front and communicate the benefits. Do not make your customers ask for financing. Some customers are too proud to ask for financing, but will take advantage of it if you present it as an option first. We call this offering "financing with honor."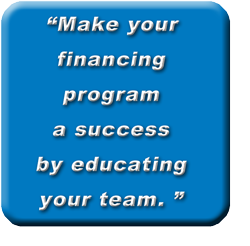 3. How do you pay for financing?
Build your financing costs into the price of the systems you sell as one fee that is the same across the board, no matter which type of financing your customer selects. Be sure to check with your accountant or attorney, as regulations may differ from state to state.
BDR covers how to pay for financing in more detail in the Foundations for Profit & Growth class.
4. Make your financing program a success by educating your team.
Owner - First, as the owner you must be committed to offering financing. Your commitment will trickle down to your team.
Receptionist or Sales Coordinator – They need to plant the seed for financing with all incoming sales calls.
Sales Team – Make sure they understand that financing will help them close more sales and significantly raise the price of their average sale.
Dispatcher or Service Technicians – Explain that financing will help them with accessory sales and replacement leads.
Share the benefits of financing with your team: more sales, higher average sales, and more business for the company. These benefits provide more revenue to the company and more opportunity for future bonuses or raises.
Your customers are using financing for their major purchases, so our industry needs to catch up and share our financing options. You can do this by educating your team on the benefits of financing for the consumer and how financing will benefit them and the company.
We will discuss advanced financing options in Offering Consumer Financing Part 3.
Click here for information about participating in the Heil Financing Program.